How Do I Meet People?
Our church is not a place for spectators. It is a place for team members. Whether you are a five-year old child, a ninety-five year old grandmother, a busy mom, or a businessman with big responsibilities, we want you to be a part of our vibrant church community. Here is how you can learn, serve, and grow at this church.
Small Groups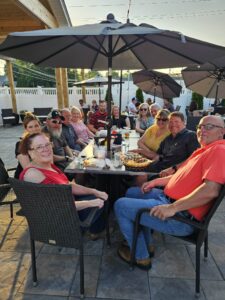 Small groups provide an opportunity for members to connect with one another through
fellowship, worship, discipleship and ministry. We are in the process of starting small
groups. We currently have two small groups. Pastor Claudia leads a women's small
group and Kaye and Scott Watts lead a couple's small group. If you are interested in
starting a small group or participating in one, please reach out to
Kaye Watts @ kayewatts@yahoo.com.
Youth Ministry

Stovall Youth are part of three churches that have united to form one youth group. Youth from Stovall meet with youth from Vine Grove UMC and Radcliff UMC every Wednesday at 6:00 p.m. Meetings are held at the Radcliff UMC campus located on S. Woodland Drive in Radcliff, KY. Please reach out to Bobby and Gwynn Smith our youth leaders for more information: whith57@comcast.net.
United Methodist Women/United Women in Faith Group
We seek to connect and nurture women through Christian spiritual formation, leadership development, creative fellowship and education so they can inspire, influence and impact local and global communities. Joined together by a common faith and single-minded purpose, our organization further expanded when the Ladies' Aid societies were started in the early 1900s. In 1972, United Methodist Women first became the women's mission organization as part of The United Methodist Church's Board of Global Ministries. And in 2012, The United Methodist Church General Conference voted to make United Methodist Women's national policymaking body autonomous. Today, we mark the beginning of a new era. As United Women in Faith, we stand ready to not only continue our legacy but forge courageous new paths. We will go wherever we are needed, without hesitation, because the needs are great but our power, our resolve and our faith are even greater. Our local unit meets on the second Monday of each month at 11:30 for a group fellowship meal with a meeting to follow. We do conduct business, but we also plan projects, have a spiritually based program, create fundraising opportunities, and provide donations to faith-based initiatives. POC: Susan Cross (secross@bbtel.com)
United Methodist Men Group
Stovall United Methodist Men meet on a regular basis for fellowship, discipleship and ministry. They are currently meeting on the 2nd Saturday of each month at 8:30 a.m. for breakfast and monthly meeting. POC: Ed Sadler (sadlerclark@yahoo.com)
Quilting Group
Quilting Group meets every Tuesday at 9:30 a.m. at the church to design and complete quilts that will bless others. The group has a thirteen year rich history of donating quilts to Hosparus, Blankets of Praise (Kentucky Conference UMW program), baby blankets to NICU units at various hospitals as well as newborns locally, and lap robes to church family who have caregivers in their homes. The quilts are blessed in a Sunday morning worship service and delivered by members to those listed above. POC: Susan Cross (secross@bbtel.com)
Dartball Team
Stovall UMC has a group of men, women and youth who meet during Dartball season to compete with other churches in the local Dartball League during the winter months. Stovall team hosts home games as well as travels to other churches for away games. Everyone enjoys good fellowship, food and making new friends with our fellow brothers and sisters in Christ. POC: Jeff Tollefson (jtollefson325@gmail.com)
Fellowship Dinners
The 2nd Sunday of every month we host a fellowship meal after our morning worship service. Bring a dish and make plans to join us for a great meal and time to fellowship with one another. POC: Karen Dyson (ksdyson@twc.com)
Tender Touch Assisted Living Center- Bible Study and Worship Service
Stovall UMC holds a weekly Bible Study for the residents of Tender Touch Assisted Living Center in Elizabethtown every Wednesday at 10:00 a.m. We also hold a worship service the 1st Sunday of every month at 6:30 p.m. If interested in participating in the weekly Bible study, please reach out to Dwayne Ellis, dellis3@windstream.net . If interested in participating in the monthly worship service, please reach out to Pastor Claudia, claudia.navagalloway@outlook.com.